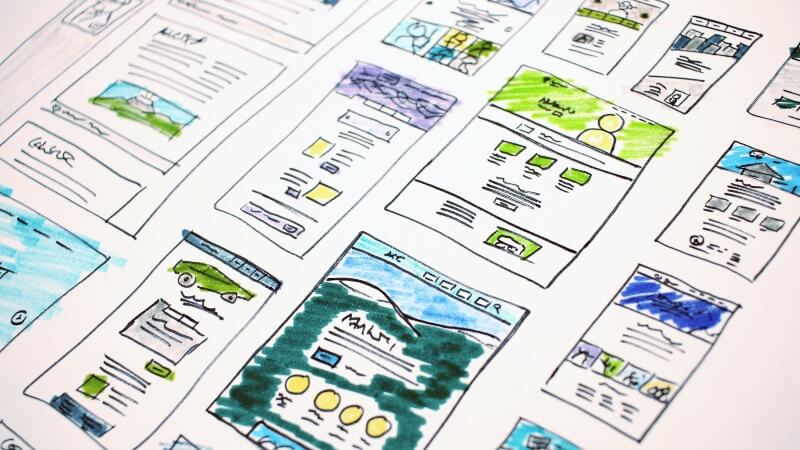 "If you know the enemy and know yourself, you need not fear the result of a hundred battles." Sun Tzu
You have to know your site, your team, and your customers and be creative – that is a given. You have to know the landscape and what everyone else that matters is doing. So for a small or midsize website, you take a look at 5 competitors by keyword overlap. Take a look at their organic traffic, UX type metrics, content, keywords, backlinks and you will get enough to fill in a dozen sprints.
With enterprise sites, you look at as many competitors as you have the bandwidth to. You build a whiteboard for each. You stare at their websites for hours. You pick them apart. And you boil all that down into action items that will drive your website's organic traction and give you an edge. Only then you will know you are doing close to all you can do. That is enterprise SEO competitor analysis.
The fundamentals are the same but small changes are no longer small when your site has 100,000 pages. If you improve your site speed by 1% you can boost brand visibility by as much as 10%.
The game is comparing websites that are competing for the same topics and search terms. You are searching for bright spots to emulate or spin into creative ideas that can help your site rank better. My favorite tools for this are SEMrush and Ahrefs.
Using a tool like SEMrush you will get dozens of results based on keyword overlap. Some, you will know us your biggest competitors others may be new to you. Start with the big guys but over several sprints drill down into as many as you can.
Summary of competitor analysis for Enterprise SEO
Identify competitors based on topic and keyword overlap

Look at high-level site numbers like:

Domain rating
Organic traffic
Backlinks

Look at UX driven metrics

Search for strengths and weaknesses
Manually look at UX on competitor sites

Look at top-performing content (content gap analysis)

Core site content
Product pages
Blog posts
What have you

Look at keyword competition (keyword gap analysis)
Look at backlinks and what you are missing and can explore (backlink gap analysis)
Look at SERP and featured snippets
Manually look at site architecture
Look at technical
Why do all that?
To quote Andy Grove: "In this business, only the paranoid survive." He meant the microchip business but I think it applies to everything.
Here I will show you how to be productively paranoid.
There are tools to pool the data but much of the game is afoot and requires critical thinking and creative solutions.
Let's dig in!
1. Identify competitors based on topic and keyword overlap
Pull your direct organic search competitors with a tool like SEMrush or Ahrefs.
The tools are similar and will pull the domains that you are competing with in organic search, based on common keywords. Here you have some subjective legwork. You can just go down the list based on the number of common keywords. You can skip around based on keywords and the sites you know are your competitors. Or you can do both. Either way, you should create a shortlist of core competitors. And revisit the long list regularly to drill down into sites that are with lower priority but can give birth to creative ideas.
Export your list and keep it close. You will be exporting a lot of data along the way and doing some light excel yoga.
2. Look at high-level site numbers
These metrics will usually be positively correlated and will give you a general direction. But do not stop here. Go to secondary and tertiary metrics to get the full picture. The devil is in the details – especially when it comes to Enterprise SEO!
Domain rating or score

Check your site's domain rating and how you stack up against your competitors
Dig into the reasons: Why? Do they have more content? Better content? More backlinks? Older domain?

Organic traffic

How is your site stacking up against your competitors in organic search? Why? Is it brand recognition or content and technical (branded vs non-branded keywords)? What can you do about it? More and better content? Keyword research? Backlinks?

Backlinks

How is our backlinks profile? How are your competitors' backlink profiles? Do you have any gaps you can fill? What kind of gaps? Are they directories, articles, or press releases? What is the cost of emulating these findings?
3. Look at UX driven metrics
These are the secondary metrics that you can find in Google Analytics and any Enterprise-level SEO platform. Think page views, sessions, session duration, bounce rate, and the like. How do you compare those with your peers? Do you have more traffic but visitors are bouncing off your site only sticking around for ten seconds? Do your competitors have less organic traffic but visitors stay on their site for five minutes and take meaningful actions?
Looking at the comparison table is not enough. Dig into each site and manually flip through the pages several times. Do that on your site as well? Notice how it feels. Is it easy to get around? Is the content neat? Are there images? Are there videos? Are the colors friendly? Are the taglines cool? Take notes. Ask three more people to do the same. Compare notes and derive action items. Think image, videos, layout, padding, buttons, internal links, color scheme – anything goes.
4. Look at top-performing content
Looking at your top-performing content is useful. You can expand on the bright spots. Looking at your competitors' top-performing content is taking it to the next level. This is known as content gap analysis. You are looking for gaps in your strategy that your competitors have thought of first.
Examine their top pages and see why they are performing well. Do they have exceptional content that best addresses the user intent and is well rounded with keywords? Do they have a lot of backlinks to those pages?
Examine the type of content and the search intent it is serving. In other words, is it the top or bottom of the funnel? On-site service and product pages target visitors that are close to making a purchase. How are your on-site pages? How can you improve them?
Value-only evergreen content serves visitors that are still researching. What blog posts bring traffic to your competitor sites? How can you get this early stage traffic with how-tos, DIYs, and top-ten reasons, and everything-you-need-to-know-about type blog posts? Do keyword research around your findings to make sure and then get down to writing.
5. Look at keyword competition and standing
Also known as keyword gap analysis, this is a look at what keywords you have in common with your competitors and what keywords you are missing out on. Tools make it seem easy as you can see exact rankings for you and any competitor but the real game is sifting through those and making a list that is true to your business and optimizing around it.
There is no finite solution here. You have to stay on top of the changes and trends in search queries and use them as seeds for your content strategy. Maintain your core list and your gap list, optimize in the direction that makes the most sense for your business.
6. Look at backlinks
Backlinks are still one of the most significant ranking signals. Using internet link structure was one of the founding ideas for the Google search engine.
Ideally, you want to drive backlinks naturally. What are natural backlinks? In one word: content. Natural backlinks are links that you get by publishing exceptional content that others link to. For example, you have an exhaustive evergreen blog post on types of trees in North America with statistical data, graphs, and maps. Then you have good chances of landscaping companies, that work with some of those trees and have info about them on their sites, to use quotes from your authoritative page and link back to it as a source.
But content is not enough. You can always give it a nudge. Nudging for backlinks includes:
Getting listed in directories – which sends positive signals about your site
Making sure you get a link to your site when you are mentioned in articles
Contributing content to blogs
Sponsoring events
Social media efforts help even though they are their own thing
By looking at how your competitors do these things you get an idea of where you are slacking. And you can emulate their bright spots and get creative.
7. Look at SERP and featured snippets
You can pull a tally of featured snippets for your competitors with a tool. But don't stop there. Look at actual search results. See what snippets your competitors are targeting. Understand what kind of traffic those are driving. Check what are the technical bits that drive these snippets – schema, FAQs, UX, bullet lists, layout, etc. Finally, see what makes sense for your site and give it a go. It should go without saying that this rests on the foundation of content and great UX on your site. Only then you can build up.
8. Look at site architecture and UX
Ditch tools! Make yourself a cup of tea and browse the sites of your competitors. Study them, take notes. What grabs your attention. What is the path you are most inclined to take and where does it take you? What are their CTAs and buttons? What color are they? What size are they? Is their content easy to read? Do they use bullet lists?
Don't do this once or twice. Do it all the time. Let it sink in. Ask your team to do it. Share notes. Boil those notes down into action items. Test them! Add them to your sprints.
9. Look at technical
Check site speed. Check what the site is built with. Use a tool like Wappalyzer and BuiltWith to pull CMS types, A/B testing tools, frameworks, page builders, plugins, tracking, etc. Look for things that will make your site better, faster, simpler, easier to use, and update. Complexity is a cost and you should always strive to mitigate it.
What else? Oh yeah:
Never give up
Learning something new is often awkward and messy. Competitive research certainly is both because you have to keep at it – always looking for an edge. You can always find new things.
Incorporate the good ideas into your sprints at a cadence that works for you – monthly, quarterly, or the like.
Maintain a core list of competitors that you always keep up with but also explore other sites that are not your main competitors. Some of these can be competing with your site in organic search only partially. These sites can be approaching your core competencies in creative ways and you can gain useful perspectives.
Learn more through different lenses: